Physiotherapy & Rehabilitation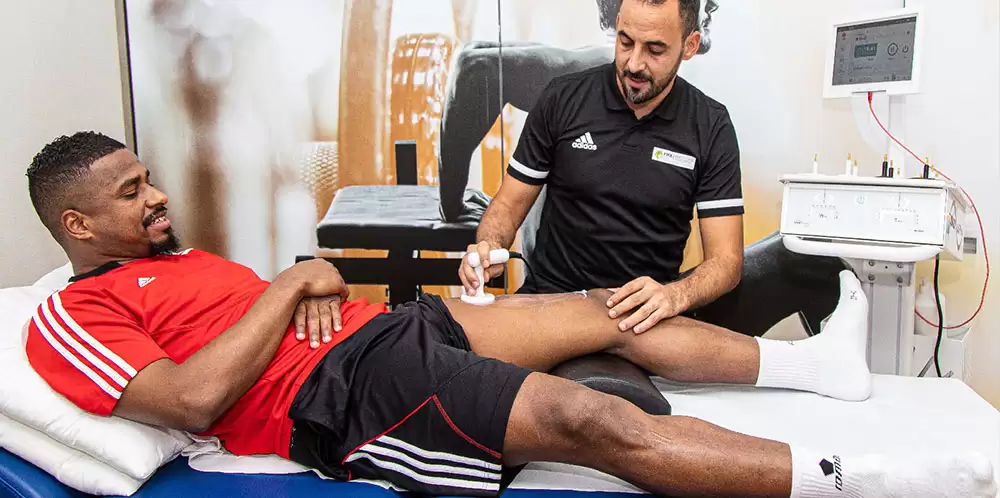 Physiotherapy and Rehabilitation Center Dubai

FIFA Medical Center of Excellence is a well-known physiotherapy and rehabilitation center in Dubai that provides traditional physiotherapy clinical services as well as a holistic and integrative medicine approach for evidence-based assessment and management of sporting, orthopedic, neuromusculoskeletal, and pediatric injury and pain.

Our Physiotherapy and Rehabilitation Department in Dubai combine conventional treatment (manual therapy, myofascial release, soft tissue mobilization, electrotherapy, care therapy, thermotherapy...) with the latest innovative technologies unique in our region (GAIT Analysis, Speed Court, Isokinetic machines - Bionix, Cybex, etc.. ). Our treatments and plans are tailored to our patient's specific needs in order to achieve maximum functional restoration, return to normal daily life, and improve quality of life (healthy lifestyle).
HIGHLIGHTS OF OUR MEDICAL FACILITY
Physiotherapy for Sports Injuries and Orthopedics
Physiotherapy for Sports and Orthopedics
Injuries to the neuromusculoskeletal system
Pre-operative and post-operative care
Return to sports training Physical education
Rehabilitation Center in Dubai

A Board-certified physician specializing in neurological and spinal cord injuries, a physiotherapist, an occupational therapist, and a speech therapist comprise our team. The rehabilitation program will be adapted to every individual situation, respecting the injury condition and controlling the evolution until a successful return to activity.

Rehabilitation care is frequently required to support patients who have lost their ability to function normally, often as a result of an injury, a stroke, an infection, a tumor, surgery, or a progressive disorder, and require rehabilitation services (such as arthritis). If a person followed a massive stroke, during which the body may have lost half of its normal functions, affecting mobility or speech or resulting in significant brain damage requires proper rehabilitation with the service's goal to get the patient back home and back to normal life as soon as possible.
Our care is to provide a rehabilitation program, individualized and personalized to return to normal activity in a safe way. We'll base our treatment on therapeutic exercises, and physical activity. Rehabilitation enables a child, adult, or older person to be as self-sufficient as possible in their daily activities and to participate in work, recreation, and daily life roles.

Psychological Advantages
Improves your self-confidence and ability to cope psychologically with your illness or injury.
Gives you more independence – returns you to your pre-injury mental state of well-being.
Your success is our success.
Book an Appointment